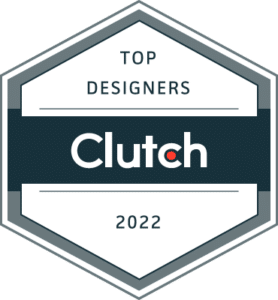 At Zoom IQ, we help grow through innovative marketing campaigns. We serve as your external advertising department from branding to broadcast and print production to WordPress website creation.
Whether your company needs comprehensive marketing help or simply a Miami creative agency to tackle a project, Zoom IQ will make it happen. We truly love what we do and create and are an integral part of our clients' success.
With that in mind, we are proud to announce that Zoom IQ has been highlighted on Clutch's 2022 design directory a Winning Print Design Agency. For context, Clutch is an established platform in the heart of Washington, DC, committed to helping small, mid-market, and enterprise businesses identify and connect with the service providers they need to achieve their goals.
The Clutch Leader Awards recognize companies' commitment to building their expertise, providing stellar customer service, and producing high-quality results for clients. We work hard to deliver the absolute best products and working experience to our clients, and we're thrilled that this hard work has paid off. Receiving this award is no small feat, and we're extremely appreciative of this recognition.
"We are honored to be recognized by Clutch for our work and professionalism." – Rick Tuckerman, Owner & Creative Director, Zoom IQ
We are genuinely delighted with this fantastic award and the tremendous support Clutch and our clients have shown us. Our clients' success is our primary motivation to continue providing outstanding services. Take a look at one of the reviews we've received on our Clutch profile.
"Zoom IQ is exceptionally easy to work with. They are very responsive are open to client comments, ideas, etc. They do not get fixated on "their favorite approach" to the detriment of the overall project or timeline." – Brad Kurtz, CEO, Marketing Performance Group
Let's get something going. We'd love to learn more about your company and how we might be of service. Please don't hesitate to get in touch.